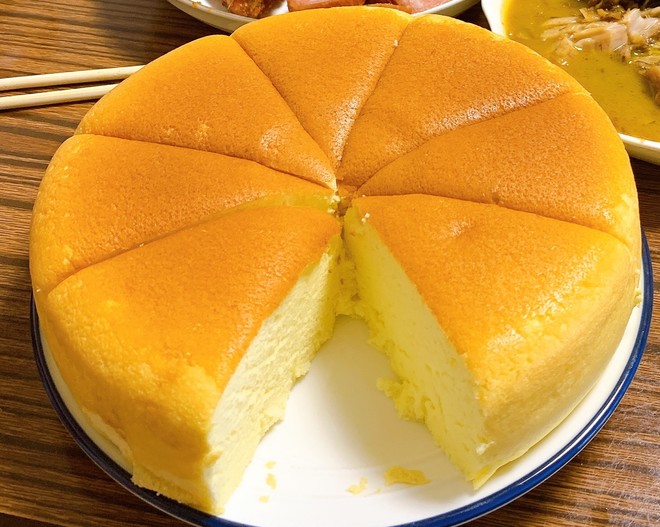 Detailed tutorial~
Materials

Eggs: 5
Milk: 100g
Corn oil: 20 grams
Plain flour: 100g
Soft white sugar (egg white): 60g
Lemon juice or white vinegar: two or three drops
Simple recipe for delicious rice cooker cake
1、Prepare two oil-free and water-free basins to separate the egg whites and yolks of the five eggs. Be careful not to mix the yolks in the egg whites, otherwise it will fail.
2、Put the egg whites in the refrigerator to make the egg whites more stable
3、First adjust the egg yolk paste, and sift 100 grams of flour into the egg yolk (I use ordinary flour, low-gluten flour can be used with low-gluten flour)
4、Pour in 100 grams of milk
5、Z-shaped stir evenly
6、Pour in 20 grams of corn oil (or other unflavored)
7、Stir it into a delicate state
8、Beat the egg whites and add 60 grams of sugar in three times. Add a few drops of lemon juice or white vinegar. At the beginning, add 20 grams of sugar. When it reaches a large bubble, add 20 grams of sugar. When it continues to be smooth, add the last 20 grams of sugar until the chopsticks can stand upright or With a small tick
9、The state of large bubbles, add sugar for the second time —Whisk purchase link :https://www.facebook.com/commerce/products/5714487478576268/?ref=mini_shop_storefront&referral_code=mini_shop_page_shop_tab_cta
10、When delicate, add the last sugar
11、The buckle can't fall off, just have a small pointed hook.
12、Mix one-third of the egg whites into the egg yolk paste first. Pay attention to the bottom-up mixing method. Don't mix too many times to prevent the egg whites from defoaming.
13、Pour the egg yolk paste into the remaining egg white bowl and mix well
14、You can't see the color of the egg whites
15、Oiling the inner pot of the rice cooker
16、Pour the cake batter
17、Shake a few times, shake out bubbles
18、Simmer for 40 minutes, then simmer for ten minutes before it can be out of the pot! (My home appliance rice cooker does not have a cake button, and the brown rice sprouting rice function is used)
19、Perfect deduction
20、Cut into pieces and plate, perfect~